Registration Category LPGSASA
Click for SAQCC Gas's video tutorial

LP Gas Safety Association of Southern Africa Registration Categories: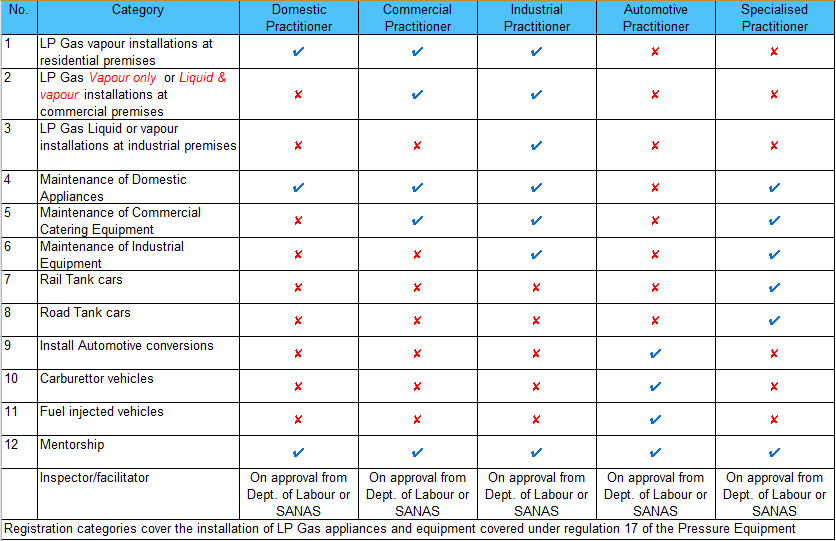 Conditions of registration:
The requirements for issuing of registration for Practitioners who wish to work in the LP Gas (LPG) environment, are as follows:
1. Completed SAQCC Gas registration form
2. Relevant training Certificate for either:
    2.1. Domestic,
    2.2. Commercial,
    2.3. Industrial,
    2.4. Rail or Road Tanker,
    2.5. Auto-gas conversion,
    2.6. Relevant specialised Training Certificate
3. Portfolio of Evidence for practical work completed, with temporary number under mentorship.
4. Attached documentation, including CoC's signed by Mentor.
5. Requirements are detailed in the SAQCC Gas Practitioner Application Form.
Please note that any foreign training qualifications will require submission to the South African Qualifications Authority (SAQA), for
assessment and verification against the South Africa Qualifications Framework.
Contact details for registration:
Person: Nonkululeko Mtshali Tel: (011) 886 9702 Fax: (011) 886 9770 registration@lpgas.co.za